Архив внутренней доски объявлений, часть 15 (42)
Для получения доступа к закрытому тестированию форума можно обратиться по электронному адресу, указанному ниже.
Приятного вам чтения!
P.S.: с любыми пожеланиями, предложениями, отзывами можно обращаться в e-mail admeister@mail.ru.
---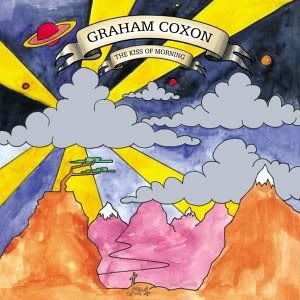 1. Bitter Tears
2. Escape Song
3. Locked Doors
4. Baby, You`re Out Of your mind
5. It Aint No lie
6. Live Line
7. Just Be Mine
8. Do What You`re Told To
9. Mountain Of Regret
10. Latte
11. Walking Down The Highway
12. Song For The Sick
13. Good Times
Альбом 2002-го года. Бывший гитарист Blur выпустил уже пять альбомов, и это мой самый любимый.
---
Les Triplettes De Belleville OST
An extraordinary, melancholy ode to the endless, mercurial peculiarity of life, Sylvain Chomets The Triplets of Belleville (Les Triplettes de Belleville) finds as its existential constant the persistence of art, the familial ties that bind, and the echoing green of synchronicity. It is the finest film of its kind since Babe: Pig in the City, Gallic in the best implications of the term: self-conscious, intelligent, envelope-pushing. Its scope is immense both literally and philosophically, a series of dog dreams within providing a bit of core disquiet that work at you like the best poetry can. Its easy to forget the power of metaphor when its bandied about like so much corrupt currency in sub-par product aching for subtext--in fact, The Triplets of Belleville is so close to poetry, something by William Carlos Williams, perhaps, that it touches something pure in art and archetype, reminding in the process of what symbolic language can do when wielded with a skilled, steady hand.
Desperate to find a source of joy for her morose grandson, Madame Souza offers a puppy and a bicycle, both of which find a place in the heart of little Champion. Time passes to find the chubby and detached Champion grown into the body of a (champion) bicyclist, with Mme. Souza his tireless manager/trainer, massaging his body with vacuum cleaners and egg-beaters and tuning his bike as she tunes her piano, tuning fork and metronome and all. (The film is so well balanced that later, as the Triplets make their appearance, their music is made with similar found household objects.) Champion is abducted by gangsters interested in hooking world-class bicyclists up to a machine for gambling purposes, leaving Souza and the Triplets (an Andrews Sisters-era singing group) to search for him in the titular gothaMme.
The Triplets of Belleville feels like a Jean-Pierre Jeunet film (more specifically, a collaboration between Jeunets art director/co-director Marc Caro and illustrators Edward Gorey and Dave McKean), one scripted by Roald Dahl at his most perverse and boasting of the sort of de facto serendipitous choreography of Jeunet-Caros Delicatessen, as well as the dissection of family and the cult of childhood of their The City of Lost Children. It mounts a compelling case for the idea of television and film being our new oral tradition, opening with a newsreel of the Triplets performing with send-ups of Josephine Baker and Fred Astaire and ending on first a haunting scene of drilled athletes chasing a movie screen, then a moment in which Champion reminisces about his grandmother before what is essentially a cathode shrine. And at its best, The Triplets of Belleville reminds that the cinema is both a visual and musical medium, telling its story without the aid of dialogue and relying exclusively on our own capacity for understanding the intricate intimacies of greed and loyalty, memory, and love to tell its tale. An instant classic. (@ Film Freak Central)
http://www.sonyclassics.com/triplets/
Les Triplettes De Belleville OST
Bitrate: 320Kbps
01 Sous Le Pont 1
02 Belleville Rendez-Vous
03 Generique Douverture
04 Cabaret Douverture
05 Tour De France
06 Attila Marcel
07 Theme Bruno
08 Tout Doux Bruno
09 Belleville Rendez-Vous (Maquette)
10 Theme De La French Mafia
11 Bach A La Jazz
12 Cabaret Aspirateur
13 La Jungle De Belleville
14 Barbier Cieco Cieco
15 Pa Pa Pa Palavas
16 Retour De La French Mafia
17 Filature
18 Poursuite
19 Belleville Rendez-Vous (Version Anglaise)
Kronos Quartet хотелось бы Есть у кого Kronos Quartet в приличном качестве (VBR, 256) ? Поделитесь с неимущими, а?
---
В поисках раритета..Dance 2 Trance - Revival А вдруг у кого завалялся, а?
Будьте добры- поделитесь. Вспомнила об этом диске, а найти его не могу.
Dance 2 Trance - Revival, выпущен в 1995 году:)
---
Diana Krall - Live at the Montreal Jazz Festival
On June 29, 2004 GRAMMY-award winning super star vocalist and pianist Diana Krall, gave a career defining performance to over 15,000 fans on opening night of the Montreal Jazz Festival's 25th Anniversary celebration.
Live at the Montreal Jazz Festival features Diana Krall on vocals and piano along with her band of Anthony Wilson on guitar, Peter Erskine on drums, and Robert Hurst on bass. Most of the songs performed here are culled from Krall's recent Verve release, The Girl in the Other Room.
The album, which has been certified Gold in the US and double Platinum in Krall's native Canada, marked a change in that it showcased for the first time Krall's skills as a songwriter. Many of the album's songs were penned by Krall and her husband, Elvis Costello. Some of the Krall/Costello compositions featured on Live at the Montreal Jazz Festival are "Abandoned Masquerade," "Departure Bay," and "Narrow Daylight." The DVD also features Krall's concert opener, the original instrumental "Sometimes I Just Freak Out," a song which is not available on the US version of her latest CD.
Krall also interpreted songs from a wide range of artists for The Girl in the Other Room, including Tom Waits ("Temptation"), Mose Allison ("Stop This World"), and Joni Mitchell ("Black Crow"). Krall revisits some classic favorites from her earlier Verve and Impulse! recordings. During this performance, she included "All or Nothing at All" from her album Love Scenes and "East of the Sun (West of the Moon)" and "Devil May Care" from When I Look in Your Eyes.
Playlist:
Sometimes I just freak out
All or nothing at all
Stop this world
The girl in the other room
Abandoned Masquerade
I'm coming Through
Temptation
East of the sun (and west of the moon)
Devil may care
Black Crow
Narrow daylight
Love me like a man
Departure Bay
Bitrate VBR 192-256
Diana Krall - Live at the Montreal Jazz Festival
---
Кирпичи - Раритеты Может быть у кого-нибудь есть сборники раритетов группы Кирпичи? Буду очень благодарен если кто-нибудь выложит (только не на фтп сиди_даунлоада) или хотя б на емальку - slipknotseven @ gmail.com
---
Elvis Costello & The Brodsky Quartet - The Juliet Letters Интересен ли кому-нибудь сабж? На мой взгляд, один из лучших альбомов Деклана Мак Мануса и едва ли не лучший в кроссовере, на стыке поп-музыки и академической музыки.
---
Dropkick Murphys - The Warriors Code [2005]
---
Juliet - Random Order Друзья мои, я нашёл альбом этой молодой певицы и готов поделиться с вами, а известна она благодаря песенке Avalon (зачот, автор жжот, готично, выпей йаду - ну, в смысле, песня отлёт башки). Так вот завтра после 17.00 по Москве загляните сюда http://www.livejournal.com/users/184200/610.html и путь открыт к успехам :)
---
10,000 Maniacs - MTV Unplugged
StylesAlternative Pop/ RockJangle PopCollege RockAdult Alternative Pop/ Rock
---
David Shea: Tower of Mirrors
David Shea: Tower of Mirrors
Again based on a Buddhist fable, Sheas work is in more of an ambient/electro-acoustic vein, although familiar names such as Erik Freidlander, Jim Pugliese, and Zeena Parkins show up in the credits. Composed to be played in any order, The Tower Of Mirrors integrates elements of jazz, post-classical and experimental electronic, Latin and exotica, and even rock and techno into lush, detailed soundscapes on par with the recent works of artists such as David Toop and Tetsu Inoue.
~ Sean Cooper, All Music Guide
The-Tower-Of-Mirrors.part1.exe, 9,90 МБ
The-Tower-Of-Mirrors.part2.rar, 9,90 МБ
The-Tower-Of-Mirrors.part3.rar, 9,90 МБ
The-Tower-Of-Mirrors.part4.rar, 9,90 МБ
The-Tower-Of-Mirrors.part5.rar, 9,90 МБ
The-Tower-Of-Mirrors.part6.rar, 9,90 МБ
The-Tower-Of-Mirrors.part7.rar, 5,48 МБ
---