Архив внутренней доски объявлений, часть 12 (33)
Для получения доступа к закрытому тестированию форума можно обратиться по электронному адресу, указанному ниже.
Приятного вам чтения!
P.S.: с любыми пожеланиями, предложениями, отзывами можно обращаться в e-mail admeister@mail.ru.
---
---
Quincy Jones, "Quintessence",1961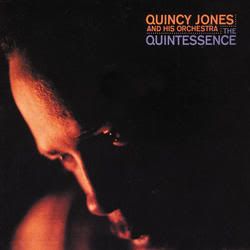 Quintessence Robot Portrait Little Karen Straight no Chaser For Lena and Lenny Hard Sock Dance Invitation Twitch

November 29, 1961


Битрейт 320

Personnel: Phil Woods, Eric Dixon, Jerome Richardson, Frank Wess, Oliver Nelson (saxophone); Freddie Hubbard, Clark Terry, Thad Jones, Jerome Kail, Clyde Reasinger, Joe Newman, Al DeRisi, Snooky Young, Ernie Royal (trumpet); Billy Byers, Curtis Fuller, Melba Liston, Paul Faulise, Rodney Levitt, Thomas Mitchell (trombone); Julius Watkins, James Buffington, Earl Chapin, Ray Alonge (French horn); Harvey Phillips (tuba); Gloria Agostini (harp); Bobby Scott, Patricia Bown (piano); Milt Hinton, George Catlett (bass); Stu Martin, Bill English, James Johnson (drums).
This 1961 big-band album by Quincy Jones displays the range of his orchestration abilities. Joness arranging style is cool, non-intrusive, and quite funky. "Robot Portrait" is a blues that is reminiscent of John Coltranes acclaimed "Blue Train." Fierce solos are heard on this track by saxophonist Oliver Nelson and trumpeter Freddie Hubbard. "Hard Sock Dance" features another spotlight on Hubbard. After the trumpeters bold solo, the reeds and muted brass take over, and the dynamic is brought back down to a whisper. Soon, however, Joness arrangement builds up again until a blast from the trumpet section signals the songs climax. "Invitation" is the only Latin-influenced tune on the album, and this track highlights Joness arranging skills better than any other. On this piece, Jones uses a mixture of mellow long tones and intense, brassy punctuations. The use of some well-placed harp chords also thickens up the mix rather nicely. Jones assembled a top-notch group for this recording, and his imaginative, colorful arrangements represent a peak in post-war big-band music.
---
Ищу Orthodox Serbian Choir Сообщники, а нет ли у кого-нибудь Orthodox Serbian Choir?
Буду нечеловечески признательна, могу дать фтп для загрузки, если вдруг надо :)
---
webb Wilder "Doodad" request.......this is a problem for me
if you have i need
mthx Freeman
---
---
General Patton Vs. The X-Ecutioners
По просьбе
beloe_kato выкладываю весьма любопытный альбом очередного сайд-проекта великого и ужасного Майка Паттона, который приглашает вас в "journey into sound".
---
Ad Vielle Que Pourra - Musaique (1993)
---
Вопрос Уважаемые коллеги, нет ли у кого фолк группы Tears for Beers?
Спасибо.
---
Basia
---
Basia
---
Bobby Previte - Weather Clear, Track Fast (Enja, 1991)
---
Woody Shaw & Anthony Braxton - The Iron Men (1977)
---
Basia
---
Robert Miles & Trilok Gurtu - miles_gurtu
---
# 158 Nokia Trends: хроника несостоявшегося фестиваля"Another brick in the wall, pt.2": история одной песниАрхивное видео Петра МамоноваКак американцы воруют песни?Мальтийская музыка
Все это и многое другое в новом выпуске MusicLooka!
---
Мамонов и Шумов "Русские поют" После вчерашнего поста о Мамонове я вновь вспомнил о том как он мне нравится и заодно о том чт в моей коллекции отсутствует диск Мамонов и Шумов "Русски поют"
Я уж не мечтаб о компакте но нет ли у кого этого альбома в мп3?
желательно конечно в 320 kbps
спасибо
---
Type here Еще немного музыки с лейбла Type по просьбе
chilledstoned
---
angelo badalamenti очень хочется заполучить музыки
angelo badalamenti
.
спасибо
---
Елена Камбурова - Последняя любовь / Любовь и разлука (2006/2001)
---
The Hollies Очень нужна британская группа 60-х
The Hollies
.
Чем больше, тем лучше, хотя какой-нибудь Greatest Hits тоже пойдёт.
Спасибо заранее!
---
The Specials aka Coventry Automatics 1994 The Specials AKA Coventry Automatics 1994 Dawning Of A New Era
320 kbs
ftp://The specials aka Coventry Automatics/1994 Dawning Of A New Era
прекрасные ска-регги-панки залиты по просьбе thomas_rus.
Добавления в папку горячо приветствуются.
Secret Chiefs 3 - Second Grand Constitution and Bylaws
---
Если у кого-то есть... Death in June - после 90го, кроме 04,
Legendary Pink Dots (кроме The Poppy Variations 04 и The Maria Dimension),
Swans - нужны: Children of God 97, Love of Life 92, Burning world '89. ещё 90-й, только вот названия не знаю.
залейте пожалуйста.)
Спасибо большое всем, кто уже позаливал!
---
Прошу помощи!!! Очень Нашел классный рождественский альбом Aly & AJ "Acoustic Hearts of Winter" 2006, на allofmp3.com прослушал. Но вот проьлема, нашел только в 2 местах и не могу выкачать :(
Здесь смог выкачать только первые 5 песен:( Дальге заблокировало и вовсе перестало качать даже те, что уже скачал.
А отсюда рар архив скачал но пароля на него нет(
Музыка действительно хорошая, помогите найти вторую половину альбома.
Заранее благодарен!:)
---
Dona Bela s/t
---
Musicalia "Magicoro"
---
Musicanova
---
А залейте кто-нить саунд к "Револьверу", а?
Пожааалста! )
---
Gary Numan Друзья, очень разыскиваются любые записи
Гари Ньюмана (Gary Numan)
периода 1981-1999 годов. Подробный список - под катом. Поделитесь плиз, если у кого есть, очень надо. Спасибо.
Альбомы:
1981 Dance UK #3
1982 I, Assassin UK #8
1983 Warriors UK #12
1984 Berserker (first album on self-owned Numa label) UK #45
1984 White Noise (live recording) UK #29
1984 The Plan (demo recordings from 1978) UK #29
1985 The Fury UK #24
1986 Strange Charm UK #59
1987 Exhibition (compilation from Beggars Banquet days) UK #43
1987 Ghost (live recording)
1988 Metal Rhythm (released in a re-sequenced edition in the US as New Anger) UK #48
1989 The Skin Mechanic (live recording) UK #55
1989 Automatic (collaboration with Bill Sharpe as Sharpe + Numan) UK #59
1990 Outland UK #39
1992 Machine + Soul UK #42
1994 Dream Corrosion (live recording)
1994 Sacrifice
1995 Dark Light (live recording)
1995 Human (Gary Numan and Michael R. Smith, instrumental album)
1997 Dawn (US reissue of Sacrifice; same track listing)
1997 Exile UK #47
1998 Living Ornaments 81 (live recording)
1998 The Mix (remix project by Cleopatra label, featuring Spahn Ranch, Information Society and others)
1999 The Radio One Recordings (1979 BBC radio sessions)
Синглы и EP:
"Stormtrooper in Drag" (1981) - with Tubeway Army co-founder Paul Gardiner UK #49
"Shes Got Claws" (1981) UK #6
"Love Needs No Disguise" (1981) - with members of former backing band as Gary Numan and Dramatis UK #33
"Music for Chameleons" (1982) UK #19
"We Take Mystery (to Bed)" (1982) UK #9
"White Boys and Heroes" (1982) UK #20
"Warriors" (1983) UK #20
"Sister Surprise" (1983) UK #32
"Berserker" (1984) UK #32
"My Dying Machine" (1984) UK #66
"Change Your Mind" (1985) - with Bill Sharpe as Sharpe and Numan UK #17
The Live EP (1985) - tracks: "Are Friends Electric?"/"Berserker"/"Cars"/"We Are Glass" UK #27
"Your Fascination (1985) UK #46
"Call out the Dogs" (1985) UK #49
"Miracles" (1985) UK #49
"This Is Love" (1986) UK #28
"I Cant Stop" (1986) UK #27
"New Thing from London Town" (1986) - with Bill Sharpe as Sharpe and Numan UK #52
"I Still Remember" (1986) UK #74
"Radio Heart" (1987) - with Radio Heart as Radio Heart Featuring Gary Numan UK #35
"London Times" (1987) - with Radio Heart as Radio Heart Featuring Gary Numan UK #48
"Cars (E Reg Model)" (1987) - re-mix UK #16
"All Across the Nation" (1987) - with Radio Heart as Radio Heart Featuring Gary Numan (Did not chart)
"No More Lies" (1988) - with Bill Sharpe as Sharpe and Numan UK #34
"New Anger" (1988) UK #46
"America" (1988) UK #49
"Im on Automatic" (1989) - with Bill Sharpe as Sharpe and Numan UK #44
"Heart" (1991) UK #43
"My World Storm" (1991) US #46 (Hot Dance Club Chart)
"Emotion" (1991) (Did not chart)
"The Skin Game" (1992) UK #68
"Machine + Soul" (1992) UK #72
"Cars (93 Sprint)" (1993) - re-mix UK #53
"Like a Refugee (I Wont Cry)" - with Dadadang as Dadadang Featuring Gary Numan (1994) (Did not chart)
"A Question of Faith" (1994) (Did not chart)
"Absolution" (1995) (Did not chart)
Dark Light - The Live EP (1995) - tracks: "Bleed"/"Every Day I Die"/"The Dream Police"/"Listen to the Sirens" (Did not chart)
"Dominion Day" (1998) (Did not chart)
---